As of monday, Marin is 6 months old. The fact that we are already half way through her first year is astounding and shocking to me. I truly cannot believe how quickly time is passing. Six months ago, I was wanting nothing more than to go into labor and meet our little girl. Now she is almost sitting up on her own, is trying out new foods and managing to get more on her than in her mouth, and blows raspberries with the best of them. We are back to sleeping mostly through the night but she does baby yoga stretches in her crib all night. Watching her on the baby monitor is pretty funny at times.
Has started trying solid foods. So far banana is the contender. We will move on to something else in a few days.

I recently bought her baby bandanas to wear instead of all of the (kind of) ugly bibs she's been wearing. People are always wondering why she always has a bib on. I have one answer: DROOL. Unless you want to come to my house every 2 hours or so and change her outfit, the bib is staying. But now, she can drool in adorable style.

She rolls half way across the room in the blink of an eye. Tummy time is her favorite time now.

She babbles with the best of the them. She is a pro at making fart noises.

We have her 6 month well check next week. I am curious as to how much she weighs now.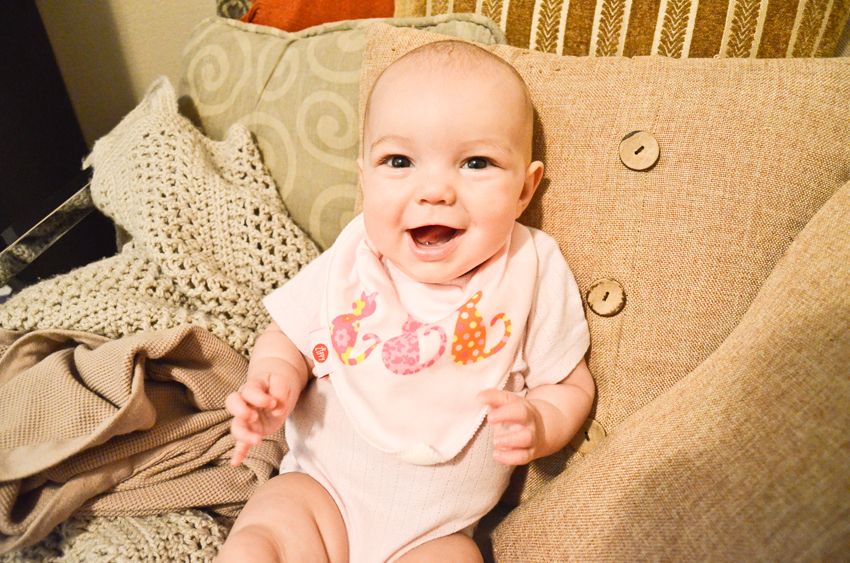 Mama and Dad at 6 Months:
As of this week, I have embarked into the world of Beachbody, in an attempt to get my body back, or even better than ever. I am loving Shakeology and I ordered the Piyo workout. It's awesome. I seriously love it and actually look forward to working out.
I am also making sure I take better care of myself. This morning I am treating myself (finally) to a Package of Bliss at She She. 3 hours of glorious pampering. I can hardly contain my excitement!

Ryan is back to having Marin all day on Wednesdays. They take trips to Best Buy. She convinces him to buy more Blu-Rays. I know their secret plan.

We are going to have a date dinner this Friday, which I am looking forward to. One of the wonderful grandmas is back teaching school now and needs some Marin time. We will gladly help her out.

We are half way through this photo series! I can't wait to put it all in a book that we can look at for years to come. Also, Ryan took the photos for this week!