Every year I begin with a new list of things I want to accomplish for the next year. I am a list maker and love stuff like this. I pretty much eat it up. This year was no different. Granted, I didn't cross off as many as I would have hoped, but I knew that throwing in a pregnancy and a baby would probably make life interesting. Oh boy, it has been interesting! The highlighted points are what I didn't fully accomplish. I have been working on my new list and will be posting it tomorrow on my birthday. 28 was a good year. A lot of changes occurred when I was 28. I still can't believe how quickly I am making my way to 30.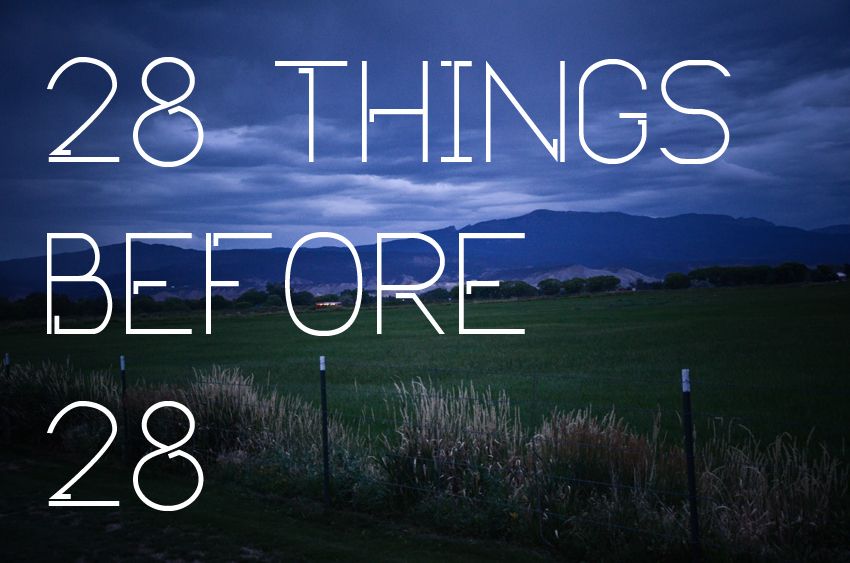 1. Buy more vinyl: #1 We bought one record. At least we bought one.
3. Become reacquainted with my camera.
4.

Pay off all credit card debt

(we are well on our way!) 3 down.
5.
Go to the Drive-In or to a movie all by myself
7. Have a garage sale We bought a new AC unit for our window with our earnings. Hallelujah.
8.
Rejoin a gym/New workout regime
9.
Read the Dark Tower Series
10.

Lose the baby weight

...slowly getting there.
12.
Photo booth pics with my honey
13. Hang out with other moms Not as much as I would like, but I haven't done really bad with this.
14. Hire someone to clean my house for a change. I did, for one glorious month and then realized we are way too poor.
15.
Have a weekend away. Ha ha ha ha. That's laughable.
18. Splurge on a package of bliss appointment here.
20. Cook a recipe from a new cookbook.
24. Send out Christmas cards
26.
Make a photography website
27. Take better care of my skin- new routine I've been using these products since I became prego. I just switched over to these in June....Doterra's Skin Line. I am in love.
28. See a concert. (not including any gig we are involved in.)