In this very moment, I feel the need to run away from everything or at least take a little break. From motherhood. From a job that is stressing me out so much lately and I feel so much change on the horizon. From the fussy child next to me that is probably teething and might be having a worse go at today than myself. From the bills that need to be paid for the stuff that we don't really need. From the lack of time. From the lack of freedom. From the lack of passion and creativity.
Let go my soul, and trust in Him.
The waves and wind still know His name.
That is the song currently playing in our little home office. Marin is looking at me as if to say, "Is everything alright, Mom? I'm growing today."
It is well.
With my soul.
Talk about a gut punch to the heart. A check. A balance.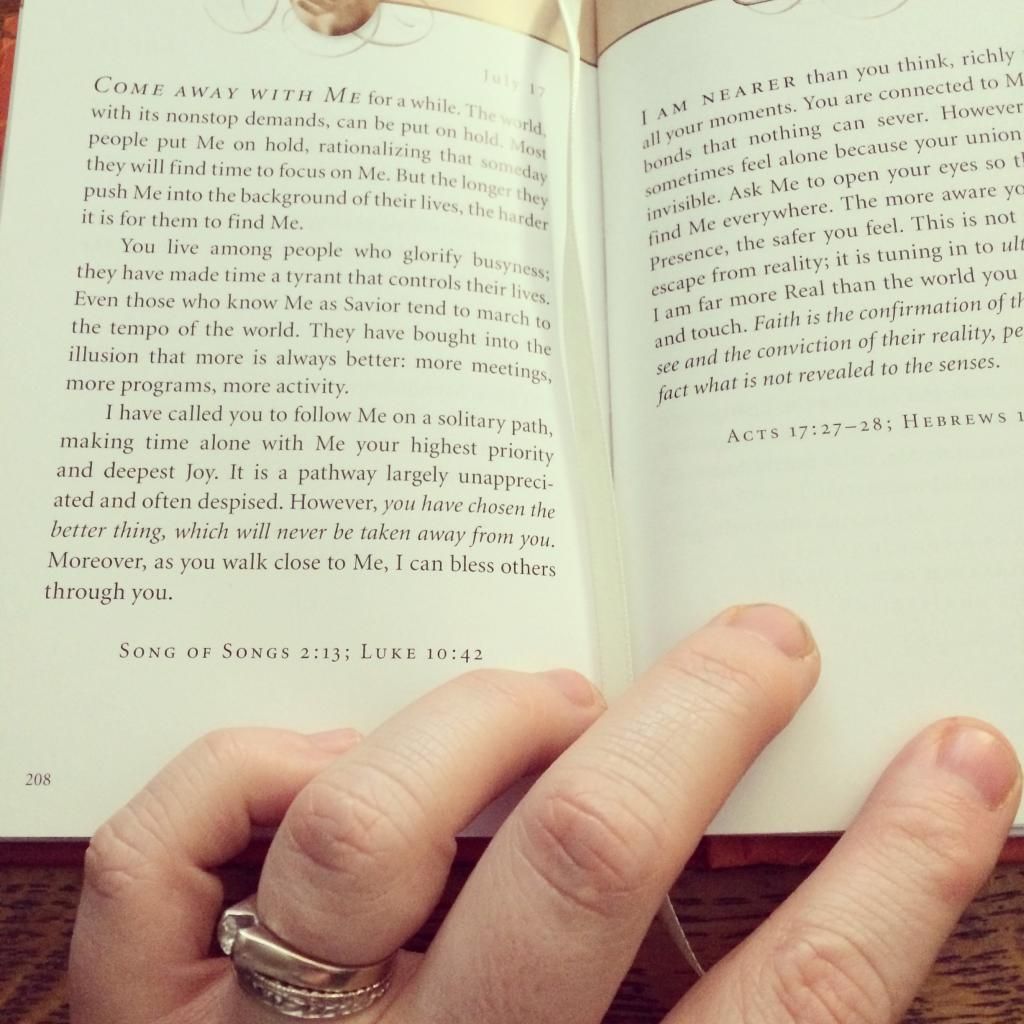 Jesus Calling stated this a few days ago:
Come away with Me for awhile. The world, with its nonstop demands, can be put on hold. Most people put Me on hold, rationalizing that someday they will find time to focus on Me. But the longer they push Me into the background of their lives, the harder it is for them to find Me.
You live among people who glorify busyness; they have made time a tyrant that controls their lives. Even those who know Me as Savior tend to march to the tempo of the world. They have bought into the illusion that more is always better; more meetings, more programs, more activity.
I have called you to follow Me on a solitary path, making time alone with Me your highest priority and deepest Joy. It is a pathway largely unappreciated and often despised. However, you have chosen the better thing, which will never be taken away from you. Moreover, as you walk close to Me, I can bless others through you.
I live my life in my mind between a couple rules of thought, between a couple of ways that I feel my days should be lived out. The whys, hows, whats, and whens are usually around, just hanging out and wondering when I will give them the time of day. We are busy. Our lifestyles are busy. Add a baby into the mix and I can't wait to finally put my head on my pillow at night, only to be woken up too early the next morning. Change this diaper, nurse the baby, fold the laundry, work on the work project, try and not eat the rest of the donuts in the pretty pink box on the counter, write this blog, make this blog look better, try and sit down to actually play an instrument and finish a song, try and better the world through essential oils, debate if I should be a seller or just use them for my family, realize that I need to share them, work on another side business, edit photos, shoot a wedding...and....and....and...and. That run on sentence only reveals to me the chaos that is our life.
I tend to glorify busyness. It has been a part of my DNA for so long but I want to call it out now. To be done with it. I always have my hands in a million things and I tell myself that it is within the chaos that I thrive. I think I've been telling myself that lie for a really long time. Over the last few days I have felt the insatiable need to simplify our lives, to some how go through every room in this house and get rid of all of the stuff that is in the way. I want to simplify our schedule. I constantly feel the need to be knee deep in many business ventures because we need the extra income. I want to dive into those ventures not due to a financial need but for a creative, "I'll grow from this" need. I'm ready for the hospital bills from having a baby to be done and over with. I am ready to not stress about our finances or making sure the yard looks nice.
Who are we trying to impress again? Oh, no one? That's right.
I want simplicity. I want time spent with Jesus in all of the chaos.
Let go my soul, and trust in Him.
The waves and wind still know His name.